HR professionals have a wide range of abilities, and there are different levels of HR employees. If you need to move up in the ranks of the HR department, a Human Resources certification may be the key.
Human Resources certification is an ideal way for employers to assess employee performance and dedication to keeping up with HR courses. Employers may also provide higher pay and higher employee ranking to those with a Human Resources certification.
When deciding to earn a Human Resources certification, learn the different types of certification options as well as the benefits and disadvantages of each type of HR professional. There is a wide variety of responsibilities that fall to HR professionals. The right certification can assist you to stand in the ranks.
Many of us think of HR as the people in charge of appointing open positions within an organization, but it is much more than that. Talent acquisition is just one aspect; many HR professionals are also tasked with employee onboarding and practice, measuring performance, administration of employee compensation and benefits, and higher-level policy and strategy development. These responsibilities are integral to the achievement of an organization, and achieving a respected certification helps you prove you have got the chops to handle the job.
Benefits of HR Certification
Earning an HR certification is an ideal way to show professional achievements, which may also aid with career advancements. Human Resources certification provides many benefits for both employees and employers:
Employee Benefits
Human Resources certification provides employee dedication to their HR career as well as their interest in staying updated with the latest trends.
Certification provides a perception of competency, qualifications, and ability to perform at a higher level.
Human Resources certification helps with group decision-making among peers because the certified employee's feedback may be given more consideration.
Employees with certification are often considered for better opportunities, higher salaries, and company advancements.
Employer Benefits
Certification allows for more natural selection when finding qualified candidates for an HR position.
Human Resources certification can help organizations determine whether an employee can perform at an acceptable level within their position.
Certifications encourage employees to perform in a better way with skills that are up to date.
Other Benefits of HR Certification
1. Reaches to Better Pay
It is common knowledge that people with BSC will not receive the same salary as those holding master's certificates. Now consider those holding a globally trusted certificate of competence.
Research explains that HR professionals in senior job functions make significantly more money than non-certified HR professionals.
2. Assures Better Performance on the Job
The reason for this is because Human Resources certification provides HR managers with advanced skills for better job delivery. They will be able to access the situation better and hire better personnel for the company they represent.
Those with HR certification are more likely to work better, offer more attractive HR skills, and give a better outlook for future positions in the HR field.
3. Showing Candidates Level of Proficiency
Just like PMI certifications will advance your career and set you up for a better career part, improving your HR credentials with a Human Resources certification confirms and acknowledges your level of agility in your job role.
While some HR certification center is on risk management, others are on workforce planning and development, human resource development, business management and strategy, pay and benefits, etc.
4. Distinguishes You From Your Peers
One of the sole reasons for obtaining an HR certification and other places is because you need to stand out from your peers. If you are now employed in a good organization as an HR professional, getting a certification will mark you for better roles, pay, and promotion.
Savvy HR professionals understand the advantage of adding a global certification credential to their resume. Certified HR professionals are more appreciated by employers and seen as more self-motivated and capable of delivering exceptionally on the job.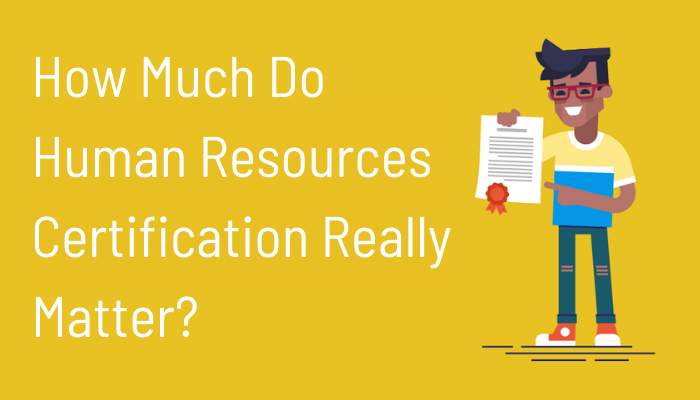 5. HR Certification Provides Enviable Networking Opportunities
Becoming HR certified will enable you to meet with other HR professionals and open you to excellent networking opportunities. According to the Human Resources Certification Institute (HRCI), over 140,000 professionals in the HR field have a certification. With that number gets the chance to meet and share opportunities with other professionals globally. Networking is an essential part of occasional career growth if appropriately leveraged.
Conclusion
HR certification is becoming a popular trend as more HR professionals are becoming more educated at selling their worth. If you are looking to get a Human Resources certification can guide you on where to start your certification journey from here.