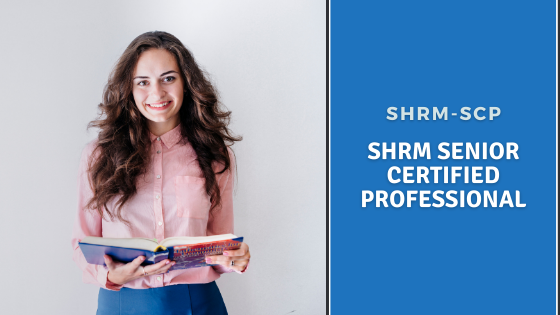 HR professionals who develop strategies, lead the HR function, foster influence in the community, analyze performance metrics, and align HR strategies to organizational goals, should take the SHRM-SCP exam.
The SHRM-SCP certification is for individuals that have a work history of at least 3 years performing strategic level HR/HR-related duties; or for SHRM-CP credential holders who have held the credential for at least 3 years and are working in, or are in the process of transitioning to, a strategic level role.
Candidates for the SHRM-SCP certification are not required to hold an HR title and do not need a degree to apply.
The SHRM-SCP exam is designed to assess the competency level of those who engage in HR work at the strategic level. Work at this level includes duties such as developing HR policies and/or procedures, overseeing the execution of integrated HR operations, directing an entire HR enterprise, or leading the alignment of HR strategies to organizational goals.
Applicants must be able to demonstrate that they devoted at least 1,000 hours per calendar year (Jan. – Dec.) to strategic level HR/HR-related work.
More than 1,000 hours in a calendar year does not equate to more than 1 year of experience.

Part-time work qualifies as long as the 1,000-hour per calendar year standard is met.

Experience may be either salaried or hourly.
Individuals who are HR consultants may demonstrate qualifying experience through the HR/HR-related duties they perform for their clients. Contracted hours must meet the 1,000-hour standard.
SHRM Senior Certified Professional (SHRM-SCP)
SHRM-SCP Exam Summary:
SHRM Senior Certified Professional Syllabus Topics:
| | |
| --- | --- |
| BEHAVIORAL COMPETENCY CLUSTERS | ITEM TYPE |
| Leadership (17%) | Situational Judgment (40%) |
| Business (16.5%) | Foundational Knowledge (10%) |
| Interpersonal (16.5%) | |
| HR KNOWLEDGE DOMAINS | ITEM TYPE |
| People (18%) | HR-Specific Knowledge (50%) |
| Organization (18%) | |
| Workplace (14%) | |