The Associate Professional in Human Resources (aPHR) is the ideal certification for someone looking to be credentialed if they have never been employed in the role of a human resource. The aPHR is a severe test of a candidate's knowledge of topics they should be familiar with when they are just starting in their Human Resources career.
HRCI is a credentialing organization that has been for over 40 years with the sole intention of testing HR knowledge and giving designations to candidates. The organization designed the aPHR to concentrate on the key topics that HR Generalists are most likely to encounter early in their career.
In addition, the only basis for the aPHR is a high school diploma or its equivalent for international candidates. The exam is knowledge-based, which means that, unlike HRCI's other exams, candidates are not expected to draw on their experiences or use situational judgment to answer any of the questions. This makes it perfect for students who have not been able to get any industry experience, armed service members transitioning to the civilian workforce, and people looking to make a career change.
You have to apply on the HRCI website and get support before being able to schedule your exam. The aPHR has a rolling application deadline, so you have the flexibility to take the exam at any time during the year. Once HRCI has approved your application, you have 120 days to schedule your exam at a PearsonVue test center during the exam qualification period.
HRCI aPHR Exam Contents
For ambitious HR professionals without work experience, the Associate Professional in Human Resources is an excellent place to start. This knowledge-based certification granted by the HRCI is intended for professionals who are just beginning their HR careers, as the only eligibility condition is a high school diploma.
The content covered by the aPHR exam includes:
Compensation and benefits.
Employee relations.
Health, safety, and security.
HR operations.
Human resource development and retention.
Recruitment and selection.
aPHR Certification Advantages for Employees
The reasons individuals pursue certifications include expressing one's professional achievement, fulfilling personal satisfaction, helping in career advancement, improving one's knowledge of the field, and getting recognition from peers.
Earning an aPHR certification may help an individual make a favorable impression during a job interview to show potential employers their knowledge and competencies and can do that job.
Employee's dedication to their HR career and updated with the latest HR trends.
It gives more understanding of more competent, more qualified, and capable of performing better.
It helps in group decision-making among peers since certified employees may be given more consideration.
It boosts employee's morale and motivation for work. It is reflected in self-confidence and self-satisfaction
aPHR certification is considered as receiving better opportunities and higher salary and advancement.
aPHR Certification Benefits for Employer
From the organization's perspective, HRCI certifications are used as a selection tool to identify the best fit and qualified candidate for the position.
aPHR certification help organizations decide whether applicants or employees can work at an adequate level in his job.
Employers can also use certifications to present an image of employee respect and authority.
Certification leads to more logical steps to deal with information, challenges, conflicts, etc., related to HR.
Encourage employees to perform in a better way with up-to-date skills and competencies.
To be an effective HR Associate Professional, candidates need to learn strategic management, workforce planning, HR development, and organizational management. Still, they also require practical skills to implement these concepts.
Many HR Associate Professionals devote hours of their own time studying for HR certification exams. Once they become certified, those HR Associate Professionals devote their financial resources and time to continuing education to maintain aPHR certification.
Final Thoughts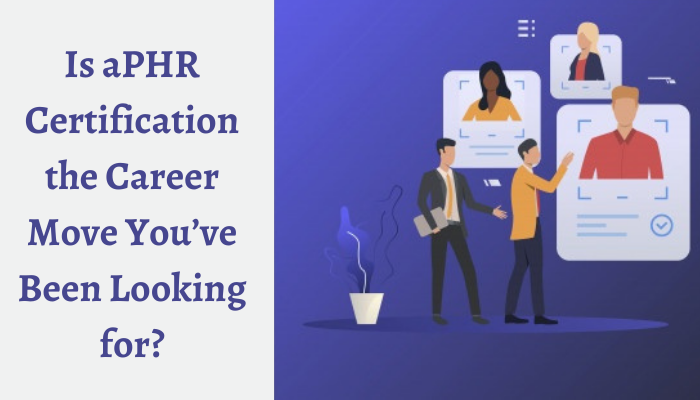 Now that you are interested in moving up the ladder in the role of a human resource, it is time to get certified. An aPHR certification is a great way to build confidence in your supervisor and colleagues, allowing you to rise through the organization's ranks and take on more human resources responsibilities. Take the time to prepare for your human resources aPHR certification exam properly, so you are ready for whatever the certification organizations ask. HRCI aPHR Certification is more than a badge of honor, and it is a symbol of excellence.