HRCI has created the first-ever entry-level certification for individuals wishing to jump-start their career in the human resource field. The aPHR certificate will show potential employers you have excellent foundational knowledge to launch a career. The HRCI Associate Professional in Human Resources (aPHR) certification study course is designed for professionals who want to increase their understanding of the human resources field.
The aPHR comprises the foundation of human resource operations as practiced in HR. As a young professional embarking on a new career in HR, the aPHR can give individuals the edge needed to jump to the top of the hiring list. It is an HR certification for professionals beginning their careers or transitioning into the HR field.
Anyone can take the aPHR exam! It is designed for people interested in learning more about HR, considering a career in HR, or being new to HR. The PHR is for serious Human Resource practitioners that have made a career in Human Resources. The PHR covers federal and general HR best practices.
Who Can Benefit?
The aPHR credential is designed for professionals beginning their HR career journey.
This certification is suitable for individuals whose jobs or career goals involve human resource management and is ideal for:
Professionals whose roles apply HR duties include managers, supervisors, administrators, or business owners.
Working professionals seeking to transition into an HR role.
Early-career HR professionals.
Recent college graduates seeking to enter the HR field.
Recent college graduates pursuing professional roles that involve HR duties.
Military service members are preparing to transition to civilian careers.
Experienced HR professionals seek aPHR certification as a precursor to a more advanced credential.
Anyone wishing to earn a credential indicative of essential U.S. employment law and HR best practice knowledge.
With no requirements for previous HR experience or a college degree, the aPHR certification from the HR Certification Institute (HRCI) is an enticing option for those just starting in their HR careers. Aiming for breadth over depth, aPHR covers many core HR subjects, from operations and recruiting to balancing employee relations and workplace health and safety.
How Important Is aPHR Certification for a Career in HR?
Recent data shows that an aPHR certification can benefit professionals who desire to enjoy career growth and respect as trusted HR partners. A certificate indicates those who have invested in their careers and understand the body of knowledge that successful practitioners require to understand. Most senior HR professionals, such as vice presidents of human resources and chief human resources officers, have at least one HR certification.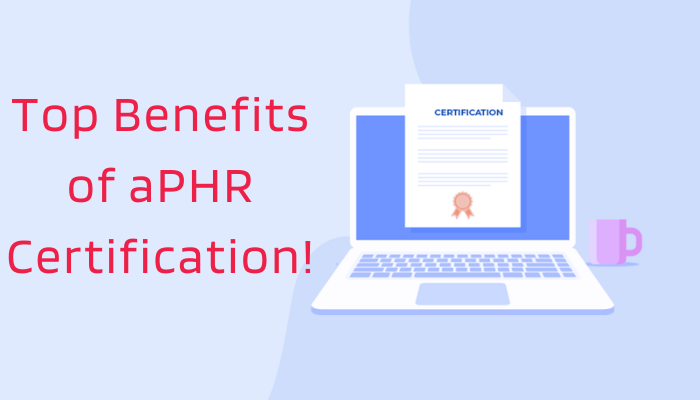 Here are a few of the valuable advantages of aPHR certification:
Employment. An aPHR certification is increasingly becoming a job requirement for HR positions. Even though some job postings show that certification is "preferred" instead of "required," more hiring managers prefer candidates with certification.
Promotion opportunities. Research shows that an aPHR certification increases the circumstance of promotion at every job level but is especially valuable for those in their careers.
Salary increase. Certified HR professionals enjoy higher pay and higher annual increases than those without certification, especially in some locations, industries, and job levels.
Career development. Most HR certifications require recertification activities such as continuing education and on-the-job projects, and these activities further improve the ongoing learning essential for mastery.
Networking and resources. Certifying organizations offer memberships and networking opportunities to their members. Though not limited to certified professionals, memberships in these organizations provide resources that can be valuable to certified professionals, including restarting education and keeping abreast with changing trends and challenges in the field.
HR professionals who have earned aPHR certification also receive more promotions and complete career success more quickly than their uncertified counterparts.
Bottom Line
If you are a newcomer in HR, the aPHR certification shows a relatively low-commitment route to enhance your skills and knowledge. Do not be surprised if it does not help you advance your career. Certification in HR can be your ticket to becoming the go-to aPHR professional as you develop other soft skills like compassion and excellent communication skills to make your organization reach its deserved potential.