The PHR certification shows mastery of HR management's technical and operational aspects, including U.S. laws and regulations.
If you meet the eligibility prerequisites for the level of education, whether or not your education is in the HR field, and the number of years of professional HR experience, assess your work experience. If you have experience in just a few areas of HR and are not in a leadership function, the PHR certification is likely going to be the best option.
The PHR Certification
The time it takes to prepare for the PHR certification relies on a candidate's work experience, background, and study habits. Some people can successfully qualify for the exam with just a few weeks of study, while other candidates require several months to review the material.
Studying for the PHR exam needs you to make a considerable financial and time commitment. Before you register for the exam, you will need to understand the PHR exam format, what you will require to do to prepare, and why getting certified is essential. Only you can decide how much time you can commit to studying, given your other obligations, and you will require to use that information to make a study plan that is comfortable for you.
All HRCI exams are scaled on a span of 100 to 700, and you have to receive a scaled score of 500 or higher to pass. Because the exam is computer-based, your score is calculated as you go. You will obtain your initial score report at the testing center, and your official results will be sent by email within 24-48 hours.
Once you have ended your test, your raw score is turned into a scaled score. Since everyone sitting for the PHR exam is taking a distinct version of the trial, the raw scores need to be formalized into a scaled score that can be used for comparison.
According to HRCI's most recent statistics, the pass rate for the PHR certification exam is 59%. It is a challenging exam, but passing is an attainable goal if you devote the time to review the materials and also make sure to practice your test-taking skills. Even though the exam is meant to test your HR knowledge, the test writers will also have little tricks to cause you to slip up, so it is essential to take as many practice tests as possible and read every question entirely.
Studying for the PHR exam is essential because it can help you feel more confident and prepared and enhance your score. When you learn, you review materials appropriate to the exam to make your knowledge and skills on the topics it covers. The more you read and practice, the more you can enhance and feel satisfied with the material.
How to Study for the PHR Exam?
If you are interested in taking the PHR exam and earning certification, you may find it helpful to know the best practices for preparing for it.
You can use the following steps to study for the PHR certification exam:
1. Assess Your Budget
As you are ready to study for the PHR exam, assess your budget. In addition to the exam and application fees, various exam prep programs and materials often come with differing costs. Setting a budget for yourself can help you guide these options and decide which ones work best for you. You may also pursue paths to help supplement these costs.
2. Set Your Skills and Knowledge
A self-assessment can help you assess your skills before studying for the PHR exam. You can comprehend your strengths and weaknesses and develop a more practical study plan with this step. You can conduct an informal self-assessment by reviewing the PHR exam content outline provided by HRCI.
3. Determine Your Study Methods
There are many study methods and techniques to prepare for your PHR certification. A self-assessment of your desired learning style can help you decide what works best. In your preparation strategy, you can research formal studying strategies, such as study groups, practice exams, and preparation courses or programs. You can also review different studying techniques, such as note-taking and flashcards.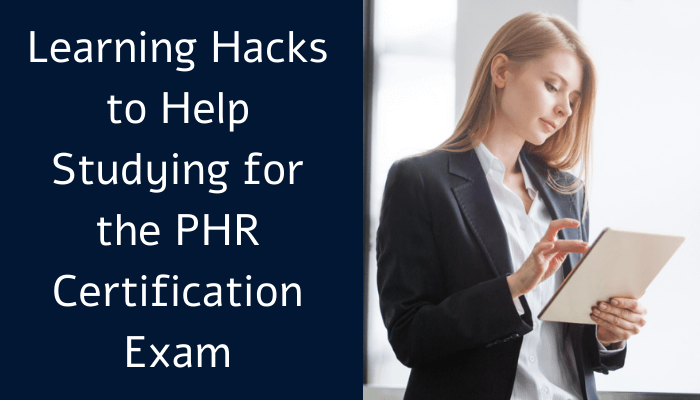 4. Take PHR Practice Tests
Practice tests can help you feel more satisfied and prepared for the PHR certification. HRCI offers an official practice PHR exam for a fee that allows you to take the exam at your desired pace. These PHR practice exams can help you evaluate your proficiencies in the various functional areas of the exam, helping you decide where to concentrate your studying efforts.
Final Words
The greatest reward for achieving your PHR certification is the satisfaction of understanding the HR world better and enhancing your work. Of course, payscale raises or promotions could quickly pay back your exam fees.