Human Resource Development
Human Resource Development is the framework for helping employees develop their skills, knowledge, and abilities, which in turn improves an organization's effectiveness.
Features of Human Resource Development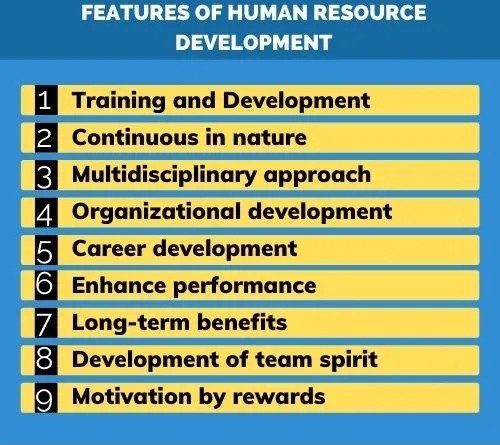 Training And Development
Human resource development(HRD) focuses on improving the performance of employees and managers by providing the required training from time to time. It makes efforts to facilitate human resources in acquiring knowledge, developing their skills, and learn newer concepts. HRD assist in improving the overall efficiency of the workforce by creating a quality environment that encourages constant learning.
Continuous In Nature
Human Resource Development approach is continuous in nature which is practiced as long as organization continues its operations. Development of human resources is a never-ending process due to dynamic factors related to the organization and environment. Distinct HRM programs need to be followed by the organization as per the variations in work environment. Steps should be taken continuously for monitoring behavior of humans for adjusting in accordance with the dynamics of environment.
Multidisciplinary Approach
Human Resource Development is a multidisciplinary approach that uses ideas, concepts, and principles from a wide range of subjects. It includes psychology, economics, sociology, management, education and communication. HRD uses theories of all these subjects in designing training and development programmes for human resource working within the organization.
Organizational Development
Human Resource Development also focuses on organizational development in addition to development of human resources. It monitors all operations and develops positive relations across the organization. All positive changes in work culture and organizational structure are timely made for overcoming internal conflicts, low productivity issues, problems of absenteeism etc.
Career Development
HRD plays an effective role in career development of employees. It assists individuals working within the organization in better planning of their career. Jobs are assigned to people as per their skills set which enables them in attaining expertise. They are informed about promotions and ways to achieve them which leads to overall growth and development of employees.
Enhance Performance
HRD assist organizations in raising their efficiency for obtaining optimum results. It designs training programme for improving capabilities of individuals leading to better productivity. HRD continuously monitors the work environment and bring all required changes timely for ensuring uninterrupted operations.
Long-Term Benefits
It is a future oriented concept which influence the long term growth of business organization. Benefits of HRD can't be experienced instantly but require some time after its successful implementation. It supports the organization and employees for longer periods in future on focusing on their overall growth.
Development Of Team Spirit
This is one of the important features of Human resource development. It aims at maintaining a healthy work environment within the business by solving conflicts and adjusting work culture in accordance with the dynamic environment. Positive relationships are developed among all working peoples that build team spirt and better coordination among them. Team spirit eventually leads to foster loyalty and belongingness among the workforce.
Motivation By Rewards
HRD motivates the employees towards their roles by rewarding them for better performance. Individuals are rewarded on the basis of their overall contribution to business results. The overall behavior of the workforce within the organization and abilities to suggest new ideas is properly recognized by offering them both financial and non-financial incentives.