Meaning of Human Resource Development
Human Resource Development is the process of enhancing and developing the skills of human resources. It is a people-oriented process and involves providing education and training to employees at work. This overall process aims at the development of people's personal and organizational knowledge, skills and competencies.
Nature of Human Resource Development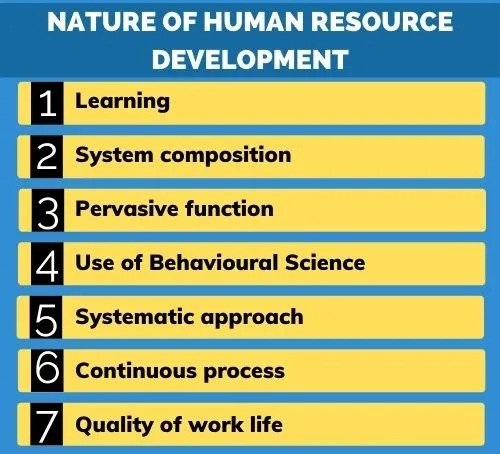 Learning: Human resource development aims at imparting learning to all members working within an organization. This approach relates to development of individual abilities, skills, and competencies. HRD facilitates employees in improving their knowledge and learning new concepts so that they perform efficiently in dynamic environment. It strives to develop such work culture that fosters constant learning for individuals.

System composition: The structure of HRD is composed of several subsystems within it which are interrelated and interdependent to each other. These subsystems include training and development, role analysis, performance appraisal, job enrichment, potential appraisal and communication. HRD is core of human resource system which influences other subsystems of enterprise like production, finance, marketing etc.

Pervasive function: HRD is a pervasive function that need to be implemented by all business organizations at every level. It is required for overall development and performance enhancement of each type of workforce whether skilled or un-skilled operating at distinct roles. HRD has an immense significance in monitoring the performance of human resource operational in key areas such as production, finance and marketing.

Use of Behavioural Science: Human resource development draws concepts form behavioural science for designing human resource development programmes. Different principles and concepts of subjects such as sociology, psychology, anthropology, economics and management are used for planning and implementation of distinct programmes related to training of employees. Even the organizational development programmes are based on concepts of behavioural science.

Systematic approach: HRD is a systematic approach that aims at raising the overall efficiency of workforce. It considers all goals and objectives of business enterprise prior to planning any training programmes for workforce. Various programmes for development of human resource are implemented in accordance with requirements of changing environment. HRD ensures the continuity of business by bringing the needed adjustments for time to time.

Continuous process: This approach is followed continuously within the business enterprise as long as it operates in market. HRD is required for consistent development of each type of skills of human resource like managerial, technical, conceptual and behavioral. It facilitates organization in sharpening their employee's skills till the point of retirement.

Quality of work life: HRD pays attention on providing quality of work life to all its workforce. It ensures that employees are provided with safe and hygienic work environment for raising their satisfaction level. Proper care is taken with regard to health and well-being of employees and their families. All these efforts lead to boost the morale of working people thereby raising the overall efficiency.

Variety of techniques: The concept of HRD employs a wide range of techniques and process for strengthening the abilities and skills of employees. It is embodied with methods like performance appraisal, career planning, quality circles, training, management development, counselling and workers' participation. These techniques collectively assist in providing effective learning to people operational at different functional areas of business.
Scope of Human Resource Development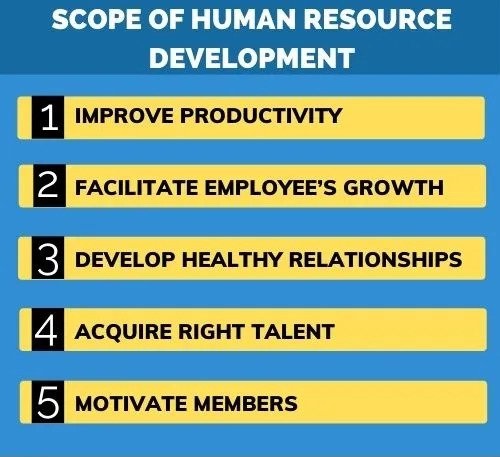 Improve productivity: HRD plays an effective role in improving the overall productivity of business organization. It enhances the capabilities of personnel by providing them extensive techniques that leads to their overall development. This is a systematic and planned approach which focuses on maintaining proper work culture under which employees deliver their roles efficiently resulting in higher productivity for enterprise.

Facilitate employee's growth: This approach is concerned with overall development of human resources deployed at distinct roles within a corporation. HRD plan and implement various programmes aimed at improving the knowledge, skills and abilities of employees. They are trained and counseled under the guidance of subject experts in order to make them competent for upcoming opportunities.

Develop healthy relationships: Human resource development make efforts to develop a positive work environment for a business. It develops a proper communication network through which superiors and subordinates are easily able to share their ideas and view with one another. Employees are invited for participation in decision making which avoids any conflicts or disputes thereby creating strong relationships among all members of organization.

Acquire right talent: It is an effective tool which enables organization in spotting and onboarding the right talent. Individuals are evaluated properly in accordance with job requirements before deploying them on different roles. Human resource are trained and guided for making them qualified enough to deliver the assign duties appropriately.

Motivate members: HRD motivate employees towards their roles by doing performance appraisal. Employees are appreciated and rewarded on the basis of their contributions in overall productivity of business. They are motivated to perform efficiently by providing various financial and non-financial incentives. Employees in view of getting rewarded works with full spirit for over performing in comparison of other members.