This summer marks five years since the Society of Human Resource Management (SHRM) declared the launch of their HR certification program intended to compete with the established HR certification program offered by the HR Certification Institute (HRCI). Many were left very frustrated by this development, trying to decide whether the profession could sustain two HR certifications and if one would eventually emerge as predominant and more prestigious over the other.
Human Resources Certification: HRCI vs. SHRM
Do you want to advance your education for a successful HR career? Perhaps you want to update your HR body knowledge and competencies, as well as enhance your marketability, increasing your salary potential? HR certification will aid you in invalidating your experience and credibility in the HR profession.
Professionals in Human Resources Association are excited to offer preparation courses through the Society for Human Resource Management (SHRM) and the Human Resource Certification Institute (HRCI).
At the time, HR professionals had to decide whether to maintain their current HRCI certification, pursue the SHRM certification, or whether an intelligent strategy would be to go through the time, effort, and cost to hold both certifications.
HRCI Certifications
Passing the rigorous HRCI certification exam is the only way to earn HRCI credentials. There are no accessible pathways through other certifications because passing an HRCI exam is the only way to ensure that a candidate meets HRCI's gold standard. This helps to ensure that only qualified individuals achieve HRCI certification. HRCI certification exams test candidates for competencies in exceptional HR practices and HR policies sought after by employers worldwide who want their organizations to succeed.
HRCI has been offering HR certifications for over 40 years, well-recognized and respected in the HR community. More than 500,000 HR professionals in more than 125 countries have earned certifications from HRCI. Before releasing the SHRM certifications, HRCI certifications were considered the gold standard in the field, and SHRM itself widely supported and promoted them.
Currently, HR certification and testing is the leading service and function offered by HRCI. For those that hold the Senior Professional in Human Resources certification, earning the business credits needed to maintain that credential can be notoriously tricky.
SHRM Certifications
The currency of the Certified Professional certification has regularly picked up in the last four years. A big part of this has to do with the Society for Human Resource Management (SHRM), which began to offer its certifications, the SHRM-CP and SHRM-SCP, in 2015. SHRM has represented the HR community for almost seven decades and has more than 300,000 members in 165 countries.
SHRM, on the other hand, touts its program, launched in 2014, as a "competency-based" certification that will show not only what the certification holder knows but how they can apply that knowledge on the job. When SHRM implemented its certification program, it allowed a "pathway" for current HRCI credential holders to apply for the new SHRM certification(s) through a streamlined process that avoided full-blown testing.
SHRM is the largest HR membership organization focused on professional development. They have aligned their certification prep courses with universities, certainly catering to new graduates. Their local chapters also promote the certification. SHRM has an advantage in having the certificate tied directly to the society itself, which offers resources, networking, training, and other programs to develop HR professionals.
The SHRM certifications are neither accredited nor as widely recognized or valued in the marketplace as HRCI's. Most people who have the SHRM letters gained them through a pathway requiring HRCI's generalist certifications to qualify. For these reasons, SHRM uses HRCI credentials as their eligibility criteria for the SHRM Pathway to Certification for the SHRM-CP and SHRM-SCP.
Is There Something Else You Should be Getting Besides HRCI or SHRM Certification?
In the HR community, there is something else that follows either one of these right now. There are a ton of new micro-learning, on-demand digital learning sites that are out there that can augment the things you would not learn studying for SHRM or HRCI certifications.
Also, you believe any modern HR Pro/leader has to educate themselves on the HR Technology space that is now a critical element and competency for great HR in today's world. Neither SHRM nor HRCI goes deep enough on HR technology, but you will never get all you need from any organization.
This is why your HR network of peers and mentors is critical – networking with HR pros outside of your ordinary everyday world. Facebook and LinkedIn groups have been excellent for this in an online format. Local SHRM groups, DisruptHR, and several other local HR groups are also a great way to network and stay updated on the latest HR trends and topics.
Recertification: HRCI vs. SHRM
HR professionals should view passing the exam to earn their desired credential as an excellent initial step. Keeping the distinction involves a continued commitment to expanding one's knowledge base to maintain HR excellence.
Both SHRM and HRCI operate on three-year renewal cycles from the date of passing the exam. During this time, the certification holder must meet specific recertification requirements established by the issuing organization. Options may include professional development courses or activities, professional achievements, HR research, or retaking the exam before expiration.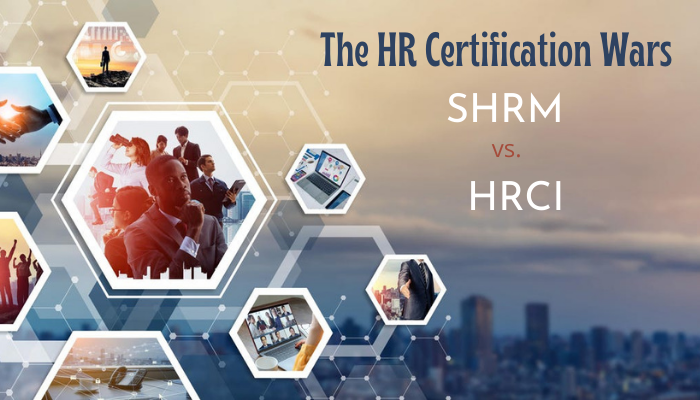 Final Words
Remember, with whichever certification you choose, and it is just a test. Keep in mind that so much of the material is information you already know as a Human Resources practitioner. Do not overthink any of the questions. If you do not see an answer, mark the question and come back to it.
Good luck!