Human Resources Management seeks to understand and then support how people do their jobs. Just as important, however, is the understanding of the environment in which that work is done; and how it contributes to the over all success of the organization – i.e. organizational effectiveness. The two are certainly inter-related and inter-dependent.
The Four Roles of HR
To truly understand the field of Human Resources Management, one must consider and accept the four basic roles of the HR function, no matter how it's defined. Some of these are already understood and others less so. These are:
Compliance and enforcement
Management advocacy
Strategic partner
Employee advocacy
The first two we've got down pat. We've just begun making inroads on the third and still can't seem to get a handle on the fourth.
The Enforcer:
Most HR practitioners will agree that the role as the employer's compliance officer is well established. But, it's increasingly difficult to keep track of changes in state, federal and local laws and regulations. These must then be translated into effective policies and practices. A greater emphasis is also placed today on taking preventative measures to forestall, or at least mitigate, the effects of employee complaints of harassment, wrongful discharge, or discrimination. Though generally perceived of as a reactive function, HR professionals will have to increasingly rely on proactive solutions.
Management Representative:
This is the other traditional HRM role. As part of the management staff, the HR department is the point of interface between management policies and its employees. It's charged with communicating and interpreting management dicta. These responsibilities are also considered an extension of the compliance and enforcement roles. What is not communicated, can seldom be enforced.
The "open-book management" movement furthers a trend toward greater employee empowerment and is based on a greater sharing of information; much of which is coordinated through human resource procedures.
Strategic Partner:
HR has begun stepping from its historical reactive function – like the guy who follows a parade of elephants with a shovel on his shoulder. A complaint is filed, react to it. Jobs open up, fill 'em. Absenteeism's on the rise, step up the discipline. The movement to include human resources management in the strategic decision-making process is a relatively new phenomenon. Only a relatively small number of organizations have yet to grant this recognition. This new role does bring with it additional burdens and responsibilities; to be aware of changes in the external environment that will impact the organization; offer appropriate strategies and procedures to anticipate change; and provide regular feed back that helps steer strategic planning. A whole new set of skills and perspectives will be required of HR practitioners.
Employee Advocate:
This is not so much a new role as much as it's practically nonexistent. It's actually frowned upon in many organizations and is the most difficult of the four to realize. After all, it does seem to be a direct contradiction to serving as an advocate for management. It's an uncomfortable conflict that many practitioners either choose, or are encouraged, to avoid. Still, it's a role that must be accepted since it directly impacts the other three. Employee advocacy fosters trust and credibility in the relationship. If employees need someone to speak for them, and if it's not Human Resources, then who? You guess! Like the overlapping of HRM and OD, the four basic roles for Human Resources management are interrelated and mutually supportive. Success rests in fully accepting all four and striking the proper balance among them. Most HR functions already have the basics of the first two. The organization must shift its culture to accept the third. Both management and the HR professionals must recognize the need for the fourth. But none can be fully actualized absent the other three.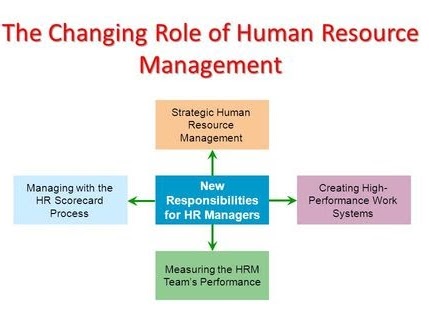 Top 5 Problems HR Faces During COVID-19
There are many implications of the coronavirus pandemic for different people. For some people, it's financial, some physical, and others mental. For most people, it's probably all of it. Due to the effects of the COVID-19 pandemic, business organizations now rely on the HR department, now more than ever. Organizations now look to HR to ensure that the company doesn't stop their operations while ensuring that the workforce is safe. It is an unprecedented time, and it means more work to do and more challenges to overcome for HR.
Until now, Human Resource professionals might not even realize what they had to go through this year and the challenges they had to scale through to keep everything working in a year like 2020. The uncertainty that the pandemic brought destroyed the economy and put everyone in a dire situation. HR personnel is the one who has to make sure that everything is aligned and is in perspective. This does not even sound easy, let alone executing it over months.
Although remote working came as a response and many companies adopted the approach, it isn't without its challenges that HR still has to deal with, not to mention many other challenges. Some of the significant problems that HR faces as a result of COVID-19 are discussed in this article.
1. Managing personal health and wellbeing as well as the employees'
If there's just one thing that was tested by the COVID-19 pandemic, it was everybody's mental health. Sadly, many other things were tested. The abrupt change in work culture alone was enough to affect the mental health and wellbeing of (employees), and it did, add to that many other outstanding issues such as anxiety and stress. Many organizations have initiated different wellness programs to help their employees and provide them with the flexibility, security, and health benefits they need to overcome these mental health issues.
The outbreak of this virus means that employees' mental health (which was mostly overlooked) had to be given more attention. Usually, you understand people's sensitivity and pulse when you are working together with them within the office environment, making it easier to deal with issues like this. However, since most of the workers now work remotely, there are more things that the manager has to worry about.
When you add up the increased workload of keeping the company running, engaging the employees, seeing that all the remote workers are effective, managing the mental health of the employees, etc., then you'll realize how much of a problem it is for HR professionals to handle their health and wellbeing, then combine it with those of the employees.
2. Rapid changes in policy
Due to the extraordinary times that we are in and how much companies are affected by this, they have had to continually update everyone of their company policy to reflect the position that the company is in the market. The fact that the HR department is the one that is held to account for most of these companies means that the bulk of these policies fall on their desk, and they have little to no time to see it out.
The HR elements have to consider some aspects, though. For instance, communication within the company and among staff must only not be fast but consistent. They have to ensure that the company can communicate or reach out to all the staff immediately (even outside work hours) when they need to announce a policy change because of new government guidelines or for any other reasons.
There are several webinars that business organizations provide for their staff to give them the necessary information and tools that they need to continue working through this disruption without putting themselves at risk. HR has to take advantage of this platform, as well.
Companies have to realize that they need to be more flexible at a time like this and give the HR managers the power to make decisions that relate to their teams. The constant change in policy and the uncertainty of events caused by the pandemic means that it is unlikely there isn't a policy for every single thing. So, HR needs to make decisions by themselves when they have to.
During a time like this, the companies must pay attention to the HR's words as they are the ones in direct relations with all the staff and have the expertise and experience to protect the employees and act in the best interest of both the company and the employees.
3. Lack of agility
HR teams will mostly struggle because of the absence or lack of agility, and you expect that this is more obvious in a situation like this one. The truth is, there are a lot of HR teams that are not built for agility. Ordinarily, this affects the HR professional, but when you have a pandemic situation, it aggravates the problem even more. During a crisis, it is vital that HR makes quick moves and responds very quickly. However, there's a long line of approvals that they need to get before taking action in most cases. This means that they are not able to respond in the quickest ways that they can and deal with issues in the best way that they can.
So, the whole process of data collection becomes slow, and it's tough to take the necessary immediate measure required during a crisis.
It is now urgent that HR teams of companies adopt a more agile approach, set the communication channel right, re-prioritize company goals, and bring better alignment between executives and middle management.
4. Uncertainty and employee engagement
As long as there is uncertainty, it is unlikely that the company will ever get the employees to work at their maximum, even when they work from home. This is a significant problem that HR has to handle because, ultimately, the company has to be as productive as possible to continue running. This again emphasizes the importance of having a good communication platform.
The employees don't know what the future holds for them or the organization, and this is very daunting, understandably. The problem is that it's harder to allay their fears as they are working remotely. Engaging employees to become more difficult. Getting everyone to be on the same page within an office structure is complicated.
The employees are likely to be affected mentally by the uncertainty. The HR manager has a more significant task on his hand to align everyone to reach the company's goals (as determined by the crisis).
There's no systematic workflow like you would have in the office, and it is more challenging to manage cross-functional teams. So, regularly updating the employees and communicating with them is essential. Otherwise, it is detrimental.
5. Communication
One of the most important things that a company needs and can't do without is communication. Moreover, during a pandemic, when everyone is locked down and has to work from home, communication becomes the company's number one need or problem. Even companies that already have a good communication channel beforehand will still struggle given the situation, especially if they didn't have remote workers before now.
The HR manager is now tasked with providing a communication channel that cuts across the company from the executives at the top to the employees. It also has to be a very quick communication channel because of the constant need to pass information across to the staff, especially since the information for health authorities, government, and labor organizations is not constant. As quick as these information changes are, companies have to be quick to react as well.
The manager and top executives must regularly relate with the staff to assure them that they are continually following and monitoring government guidelines and ensuring compliance on all fronts. The employees should also have the chance to chat both on and off on the official platforms and relate as though they were in the office.
Companies have to note that if they are unable to provide the right channels for communication and the bulk of these problems falls on HR. The HR department is already stretched, and it would be more stressful to relate with all the employees with or without a good communication tool. But tools such as Slack and Zoom are helpful.
Some of the things that HR needs to share with the employees are:
Updates from the business executives via video or email.
Training sessions and health talks.
Ongoing communication on some of the policies which relate to the situation.
Links to valuable external sources of information.
Updates on the measures that the organization is adopting.