Which HR Certification Should You Get?
If you are asking this question, you are not alone. I have already addressed some of these essential articles in previous posts. Today, I am exploring the aPHR certification specifically in more depth, an excellent certification option for those who do not qualify for the PHR yet.
All About the aPHR Certification
If you are beginning your HR journey, the Associate Professional in Human Resources (aPHR) is the ideal certification to help fast-track your career growth.
The aPHR is the first-ever HR certification designed for professionals at the start of their career and demonstrates foundational knowledge of Human Resources. But first, you must pass the exam!
Meet the aPHR
According to HRCI, the "Associate Professional in Human Resources (aPHR) is the ideal certification to support fast-track your career growth and give you the confidence to launch into the HR profession. The aPHR is the first-ever HR certification designed for professionals who are just starting their HR career journey and shows your knowledge of foundational Human Resources."
A study published by PayScale showed that only 13.2 percent of HR administrators have at least one HR credential. Professionals who earn their aPHR certification stand out from their peers!
Generally, professional certification is identified as an examination-based credential that requires educational eligibility and work experience. Generally, certifying bodies supply students with exam preparation material, utilizing a validated and professionally developed knowledge base. Professional recertification will require completing a professional development course and experience within the industry.
Since this exam does not want any prior HR knowledge or a degree, preparation involves reviewing the exam material HRCI stores on their website. This material outlines the six areas of learning individuals should be familiarizing themselves with and tasks a new HR professional may be expected to work.
How to Gain an HRCI aPHR Certification?
HRCI aPHR exam test candidate experience in certain key knowledge areas. In all cases, test-takers must do their previous human resources experience to answer questions, as most answers will depend on this. To make your chosen certification, you must pass the aPHR exam.
Here are some steps on how to approach the process:
1. Study and Prepare
To provide you an idea of what is expected, the HRCI provides candidates with sample questions to better familiarize themselves with the test material. This will aid you in studying and adequately prepare you for the exam. The HRCI aPHR suggests reviewing the contents of the Exam Content Outlines for the particular exam you plan to take, then study those set of materials. In addition to these study materials, make sure you understand what human resources laws and regulations will impact your answers.
2. Meet Eligibility Requirements
Candidates must meet specific eligibility requirements, which the HRCI aPHR explains in detail via a test application submitted by candidates. This includes a needed minimum of years of human resources experience according to their education level.
3. Approval and Scheduling
Once the HRCI determines that you meet the aPHR exam criteria you applied for, you will be granted permission to take the exam. After approval, you will be able to take a test date and location with an exam eligibility timeframe of 120 days from the date of approval. The HRCI recommends candidates schedule their exams as soon as they consent to do so, as seats are first-come, first-served.
4. Take the aPHR Exam
When you come to the testing center, you will be required to present proof of identification. Then, your digital signature will be captured upon check-in and must match the signature on your ID. Lastly, your picture will be taken, and you will be allowed to enter the testing room.
As a candidate, you will get a 10-minute tutorial on the computer and testing technology, and then you will be asked to consent to a confidentiality statement. Finally, the test will work. Official results are made available within one to two business days.
5. HRCI aPHR Exam Scoring and Results
After the aPHR exam, candidates are issued a copy of their results report at their preferred testing center. Result reports let candidates understand whether they passed or failed and how they scored. A minimum score of 500 is required to pass this exam.
The HRCI aPHR issues candidates who pass their exam a digital badge. This works as their official certificate. When contestants receive their official results report, they also receive information on maintaining their badge for their particular exam type. Badges can be used on email signatures, websites, resumes, and social media pages. Badges link to HRCI-verified data, providing credential holders the ability to give employers accessible and accurate verification of their credentials. Additionally, the HRCI runs with a third-party vendor to provide paper certificates to those who want to receive them.
Those who do not pass receive a scaled score showing them how many points they continuously gave. This can be used to guide future study efforts before retesting.
Gain Experience in aPHR
On-the-job experience in human resources is required, as practitioners must apply what they have learned in the classroom to the real world. One way to get experience is to work in an administrative role at an organization for many years and then transition into HR. For instance, some begin their aPHR journey in a payroll processing position.
Another method to break into human resources without experience is by starting as a recruiter at a staffing company. Extroverts comfortable in talent acquisition's sales and networking features could leverage that experience into an employee services role.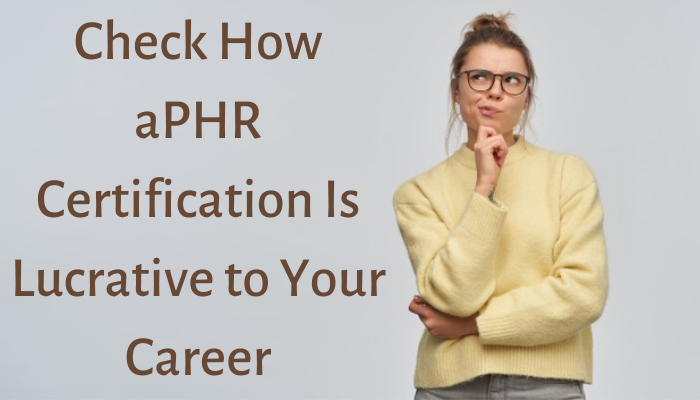 If you are a college student or a new graduate, an internship in an HR department can give hands-on experience and exposure to prospective employers. Or you can volunteer at an organization to promote your professional development and increase your network. You can use these events to see what HR areas you enjoy the most and build up your skillset.