The HRCI aPHR Certification
HRCI has recently launched the first-ever HR certification designed for professionals who are just starting their HR career, the aPHR or Associate Professional in Human Resources.
Eligibility is based on a high school diploma or equivalent, and there is no HR experience required since the exam is knowledge-based. Receiving this aPHR certification can help new HR professionals launch their career in the right direction and solidify their HR skillset.
The aPHR exam is the most entry-level certification out there and is a high starting point for those just entering the HR field.
HRCI aPHR Exam Summary:
Name: Associate Professional in Human Resources
Code: aPHR
Exam Fee: USD $300
Application Fee: USD $100
Duration: 135 Minutes
Number of Questions: 125
Passing Score: 500 / 700
Format: Multiple Choice Questions
HRCI HR Associate Professional Syllabus Topics:
HR Operation: 38%
Employee Relations: 16%
Recruitment and Selection: 15%
Compensation and Benefits: 14%
Human Resources Development and Retention: 12%
Health, Safety, and Security: 5%
HRCI aPHR Certification Exam Study Tips
1. Self-Assessment
Before you pick when to take the exam, analyze your current level of readiness. Consult the HRCI exam content outlines and relate them to your strengths and weaknesses.
2. Create Study Timeline
How much time will you need? This is impossible to answer. In researching people who certified, the answers vary from 2 days to a year. According to the HRCI, most test-takers spend more than 60 hours studying for the exam. Your schedule will have the most significance on your timeline.
3. Assess Study Methods
Note which study methods have worked for you in the past. Use these as a pattern when acquiring materials. Now is the time to try them out. Successful test-takers report using multiple techniques.
4. Know Your Budget
Know your budget for purchasing aPHR study materials. There are a few free materials, but you are going to require comprehensive programs. And they are not cheap. It is important to note that the HRCI does not recommend any specific study program.
5. Take a Lot of aPHR Online Practice Tests
HRCI has many aPHR practice tests on their website. Start taking online practice tests early in your aPHR certification program. Your test scores will tell if your studying is effective. They will aid you to know if you are progressing. They will show you how you are doing in every functional area. Change your study schedule to your practice test performance.
6. A Community of Support
Having a method of interacting with like-minded people who are at a similar stage in their human resources career and can empathize or share information about their study process can help keep you motivated. You are not out there on your own, and you are not the only person who is trying to keep up with a study workload along with a full-time job and family.
Like a virtual classroom, an online community of people who are also considering their aPHR Certification can be the support you require to keep up with your study schedule and a cheering section when it gets time to take your exam.
Preparation for HRCI aPHR Certification Exam Day
Plan your driving course or public transport to the testing center the day before. Some competitors drive to the testing center a few days before test day to make sure they understand where it is.
Leave as many personal items at home as possible. You have to put personal things in a small locker at the testing center.
Check traffic the morning of the aPHR test to get out if there are sudden slowdowns. Change your driving route if necessary.
Leave home early. You will be much more confident as you start the test if you have had time to relax.
Be prepared to present a modern (non-expired) government-issued form of photo ID such as a passport or driver's license.
Visit the Pearson VUE website for emergency closings and Pearson VUE contact details.
1. During The aPHR Exam
Read each question two or three times very gently. Slowly read through all of the potential answers. Even if the first one sounds correct. Reread the question before making your choice. Look for keywords. They are a meaningful sign.
2. Marking Questions
You can mark questions you are not particular about and return to them. Make sure you do not leave any unanswered. It is a good idea to take benefit of this feature. You may find answers from questions that come after.
What if you have no clue about the right answer? If you can pass just two answers, you increase your odds of picking the correct answer at random.
3. The Clock
If you have taken dozens of practice tests, you would not need to keep checking the clock to see if you are on track to finish. Every time you check the clock, you divert your concentration from the aPHR test. There is a caveat to this one, however. If you have marked some questions to return to, make sure you have sufficient time to go back and finish them.
Concluding Words
Knowing how you learn best and changing your study methods to your learning style can both speed up the process and perform it more comfortable for you to maintain the information you require to pass your exam.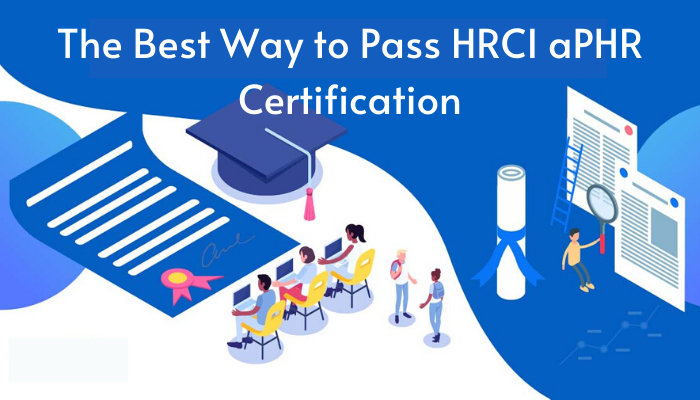 What is essential is to have a variety of learning methodologies that set you up for success. A learning roadmap, schedule, milestones, an online community, and many learning modalities are vital to being able to tackle the study needed to ace your exam. Your HRCI certification for your HR credential aPHR is an investment. It is essential to make the most of your HR certification for the long term.