Human Resource is the core unit of any organization which is responsible for the retention of good employees, whereas in building a certain measure of the company in terms of employer branding.
The HR professionals are accountable for keeping the employees motivated, giving them all the required training and knowledge, resolving the issues happening at the workplace of the employer, managers, staff, and employees as well.
The Human Resource creates strategies that are not only connected with keeping the positive image of the organization but also to keep every individual engaged and motivated to perform the tasks regularly.
HRCI Global Professional in Human Resources (GPHR) Certification
The GPHR, also offered through HRCI, is another HR certification that you can use to demonstrate your knowledge of HR in an international setting. The certification exam for the Global Professional in Human Resources credential not only covers expected topics like strategic HR management and organizational development, but also probes into more exclusive concepts such as global talent acquisition, mobility, compensation, and benefits.
The drawback to the GPHR is that to be considered eligible, and you will require a few years of global HR experience under your belt, meaning it is not the ideal certification for Americans looking to break into the international market.
Instead, it is better suited for those who are already working in HR abroad and want the certification to prove their skills and knowledge.
Is the GPHR Certification Right for You?
Let the business world understand you have the knowledge and skills required to manage HR difficulties in a global marketplace. Earn the GPHR from the HR Certification Institute (HRCI). The GPHR demonstrates your expertise in multinational HR responsibilities, including strategies of globalization development of HR policies and initiatives that promote global organizational growth.
Eligibility Requirements
To be suitable for the GPHR, you must meet one of the following conditions for education and experience:
Have at least four years of experience in a professional-level HR position (at least two in global HR) + a high school diploma.
OR
Have at least three years of experience in a professional-level HR position (at least two in global HR) + a Bachelor's degree.
Have a minimum of two years of experience in a worldwide professional-level HR position + a Master's degree or higher,
Note: Global HR experience is determined as having direct, cross-border HR responsibilities for two or more countries or regions.
The GPHR Certification Exam Format
Name: Global Professional in Human Resources
Code: GPHR
Exam Fee: USD 495
Application Fee: USD 100
Time: 3 hours
Length: 140 scored questions (mostly multiple-choice) + 25 pretest questions
Passing Score: 500/700
Type: Computer-based exam at a Pearson VUE testing center
GPHR Exam Topics Covered
You will Cover Five Parts as follow:
Strategic HR Management
Talent and Organizational Development
Global Talent Acquisition and Mobility
Global Compensation and Benefits
Workforce Relations and Risk Management
What is the Profile of a GPHR Certification Exam Candidate?
A realistic assessment of skills, knowledge, and responsibilities within the HR function is critical when choosing whether to seek HR certification as a PHR, SPHR, or GPHR.
The following profile of a standard GPHR candidate:
You may hold either a PHR or SPHR certification in connection with a GPHR designation.
GPHR candidate has cross-border HR responsibilities in more than one country.
GPHR candidate knows the strategies of globalization versus localization of HR policies and programs.
Sets HR policies and initiatives that support the organization's global growth and reputation as an employer.
Design organizational structures, programs, and processes to achieve worldwide business requirements.
Develops, implements, and assesses programs, processes, and tools to assure that they align with competitive practice, the organization's objectives, and legal obligations.
Oversees practices that ensure favorable employment conditions balancing employer wants with employee rights and obligations.
GPHR candidate has core knowledge of the organization's international HR activities.
Importance of GPHR Certification
Certification is a spontaneous action by a professional group to establish a system to grant credit to professionals who have met a stated level of training and work experience.
HR Certified individuals are usually issued a certificate attesting that they have met the standards of the credentialing organization and are allowed to make the public informed of their HR credentialed status, often through the use of initials, i.e., PHR or GPHR after their names.
HR Certifications differ from certificate programs because certifications include an experience component. It is wise first to meet eligibility requirements before starting any study program.
Once registered to take a GPHR certification exam, you will require GPHR certification exam Study Materials to prepare for this severe exam you choose.
Due to the study of GPHR professionals in multiple roles and decisions in the organization, it is essential for the individuals associated with the Human Resource to possess specific skills and capabilities. They need to know about finance, management, inside marketing, supply chain, etc.
HR Analyzing any issue which might occur shortly in the organization and taking careful steps for it, such as providing the training programs, activities during work hours in the organizations, commissions, increments, etc.
These areas will add on to the value of the organization and deliver competency in work and objectives as well. GPHR professionals handle those pivotal roles in the organization, and they are accountable for employee branding as well.
Organizations recruit professionals in the human resource department that are certified and keep some recognized degrees as well.
They favor the HR professionals that are certified and accepted globally; the HR certifications train the employees in different ways, either professionally or personally.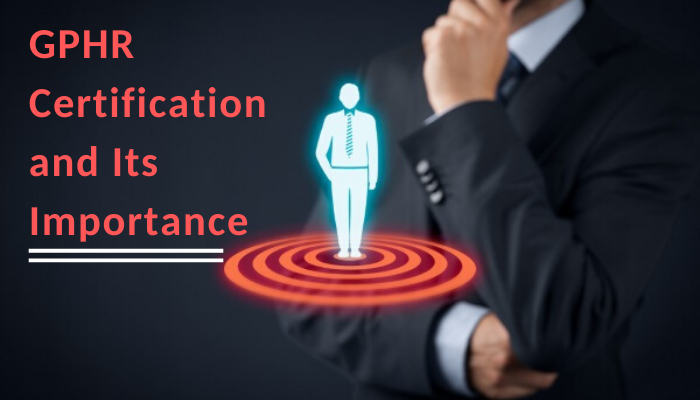 Closing Words
To help you get ready for this GPHR exam, the GPHR Certification Exam Study Guide PDF, also available from ProcessExam.com, includes all of the relevant information you will need to know to pass the GPHR exam.