An HRMS (Human Resource Management System) is a type of HR software that enables the management of several HR functions through the use of information technology.
An HRMS aims to improve the productivity and efficiency of the business through the automation of manual and repetitive tasks. This, in turn, also frees up the HR team's time which can then be used to address more strategic, business-critical tasks.
An HRMS typically covers every element of an HRIS and include the capabilities of human capital management system. The two popular characteristics of a typical HRMS are Payroll and Time & Labor Management (TLM).
"Some of the HRMS vendors have [HRIS + (Payroll + TLM) = HRMS] whereas few have [HCM + (Payroll + TLM)]"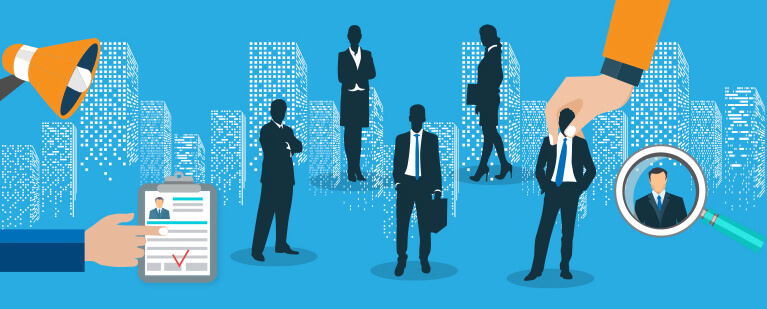 Typical Functions of HR
Human Resource Management (HRM, or simply HR) is a function in every organization which is designed to increase employee performance in aligning with employer's strategic objectives. HR is primarily focused on how people are managed within organizations, focusing on systems and policies. HR involves the following sub-functions: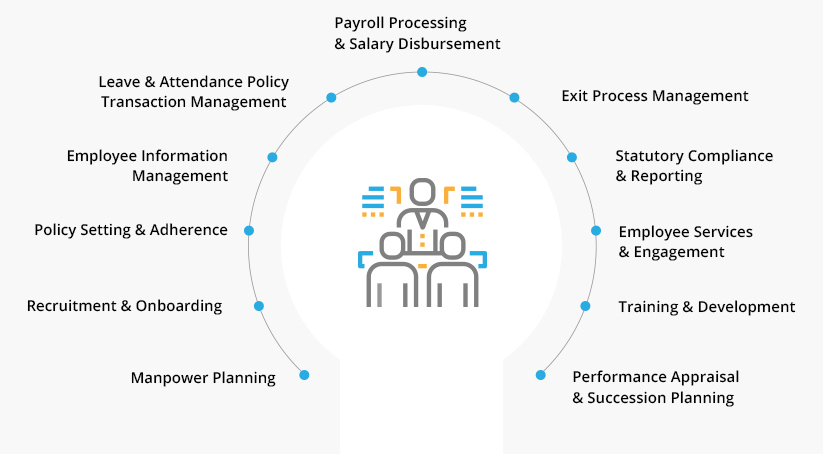 Manpower Planning
Human Resource planning mainly emphasizes the estimation of resource required in order to achieve the desired business results. HR plans can be either short term/immediate or long term/strategic.
Recruitment
Recruiting employees with the right mix of skills and competencies at the right time is a critical task. It includes filling positions through initiatives like promotions, internal job posting and employee referrals.
Onboarding
A candidate who has agreed to join an organization would report to work on a particular day. This day is called the Joining Date. There are a certain set of activities that are done on the first day of the employee joining the organization. These activities are called Employee Onboarding.
Confirmation
After an employee joins, normally, he goes through what is referred to as a Probation Period of 1-6 months. In this period, the organization and the employee review each other and decide on whether each of them would like to continue the association with the other.
At the end of the Probation period, the employee would normally go through a confirmation process.
Employee Information Management
One of the important activities done by the HR department is maintaining accurate information about the employees.
Some of the critical pieces of data that need to be maintained include:
Name, Gender, Date of Birth, Joining Date, Contact Information,
Telephone numbers, email-ids, etc
Previous employment information
Information regarding Department, Location, Grade, Reporting Manager, etc., of the current company
Payment & Statutory information like PF number, ESI number, Income Tax PAN, etc.
Apart from the above, HR also maintains information on Passport, Visa, Nominations, Company Assets, etc. Ensuring that the correct and updated information of the employees is maintained is one of the most critical jobs of the HR Department as a lot of organizational decisions by Managers and Management is taken based on this data.
Leave Policy and Transaction Management
One of the jobs of the HR Department is to formulate or manage the Leave Policy of the organization. Apart from creating the policy, the HR Department is also responsible for maintaining all transactions that happen. It is a statutory (legal) requirement to give Leave to employees in an organization.
Tracking Time and Attendance
On a daily basis, tracking the amount of time worked by an employee, the time when he comes in, the time when he exits, etc., is now drawing a lot of attention of organizations and consequently of HR departments. Apart from using this information for Payroll processing, organizations would also need to generate a number of statutory reports based on the Attendance data.
Salary Changes and Increment Calculations
HR Departments are involved in fixing or revising the salary of employees in consultation with the Business Heads. A typical salary revision is accompanied by a Salary Revision letter. This information is also passed on to the Payroll team who will include it in the next payroll.
Payroll Processing and Salary Disbursement
Payroll processing is an extremely critical activity for both the organization and the employee. It is directly related to one of the core reasons an individual works for an organization apart from statutory compliance.
Payroll processing also involves the calculation of all statutory dues (employee and employer contributions) and generating the necessary reports. Besides, employees need to be informed about the salaries paid to them, tax deduction calculations, reimbursement balances, etc. These activities would also fall under the ambit of Payroll processing.
Separation Process
When an employee submits his/her resignation or simply quits the job, it's usually called a resignation. The HR Department is responsible for ensuring that all the work involved in this process happens. The work involved would be to do an exit interview, ensure that all clearance certificates are issued, handover is done and complete information is passed on to Payroll. Payroll team would then do the Full and Final Settlement for the employee and issue him his final payment. At the end of this process, the Manpower plan would get updated and the depending on the organization's needs, a Recruitment request would get initiated.
Communication and Basic Employee Services
One of the functions of an HR Department is to enable and ensure a regular channel of communication between the organization and the employees. Employees need to be made aware of various policies like the Leave Policy, Attendance Policy, Travel Policy, Dress Code, etc. Then there could be various rules and regulations which an employee would need to follow in the organization. Any changes to these policies or significant events and other information that would affect the employees would also need to be communicated. The HR Department needs to ensure that all these happen.
Employee Engagement
HR Departments are steadily undergoing a change from being a very transaction-oriented function to a more strategic one. One of the keys to the success of an organization is to have employees whose requirements and goals are aligned to those of the organization. HR Departments play a vital role in building this alignment.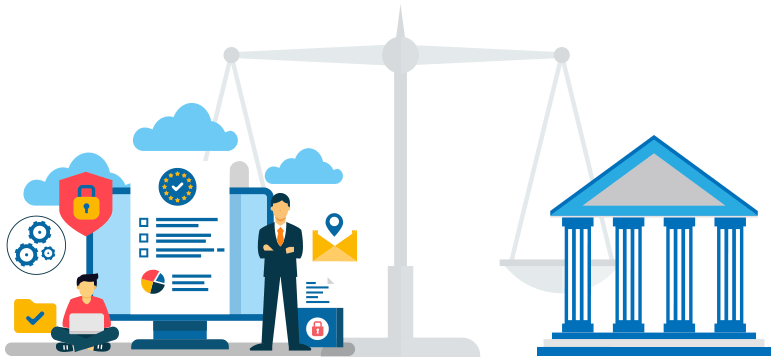 Statutory Compliance
Another critical function of the HR Department is to ensure that the organization is compliant (adheres) with all the relevant laws of the region (State/Country). They need to ensure that they are aware of these laws and take up all activities that are needed to ensure that this is fulfilled.
The various activities that are part of statutory compliance are:
Ensuring that all relevant employee and labor-related licenses and permissions are obtained

Onboarding all current and new employees into various schemes as applicable to the organization

Calculating various Payroll-related deductions from the employee salary based on the applicable laws

Ensuring that timely reports are submitted to the relevant authorities as per the mandated schedule. Report submission may be online or through the filing of the hard copy.

Ensuring that when an employee leaves the organization all relevant statutory forms and certificates are issued to him
MIS Reports
HR needs to submit multiple reports to the stakeholders. Some of these reports are presented periodically (weekly, bi-monthly, monthly, etc.) and will be in a pre-defined format. From a stakeholder perspective, this is a critical activity as they would use this in their planning and organization reporting processes.
Training and Development
This function focuses on upgrading the knowledge and skills of the employees. New joinees are trained on the product and processes of the Organizations. Employees are also trained in various soft skills such as team building, leadership skills etc. and behavioral skills such as time management, etiquette etc. The training modules are designed and delivered based on the gap in the skills required and the set of skills which employees possess.
Performance Appraisal and Promotions
Performance evaluation is a systematic activity which helps an organization to determine the extent to which employee is delivering aligned to business results. HR specialists design and implement the Performance Management system (PMS) and maintain the records. This function focuses on the processes of setting up goals for performance as individuals/teams and designing performance assessment methods.
Succession Planning
Succession Planning is the process where an organization identifies employees who can move into positions of higher responsibilities and constantly grooms them so that they are capable of achieving these positions. HR Departments need to identify such candidates, provide them with the required inputs, track and monitor their progress.
Human Resource Development
A Human relations program thereby attempts at enhancing employee motivation and workplace morale through an improved three-way communications and employee participation in the decision making processes. Human resources seek to stress on employee aspects of work instead of technical or economic aspects.