Several years ago, the SHRM (Society for Human Resource Management) created a competency model for human resources pros. After then, SHRM has formed a certification that follows with the competency model.
The SHRM (Society for Human Resource Management) recently formed two new certification exams: The SHRM Certified Professional (SHRM-CP) and the SHRM Senior Certified Professional (SHRM-SCP) to know that HR professionals are at the center of leading organizational success.
The New SHRM Certifications Will:
Build on one single

Body of Competency and Knowledge

designed to exalt the HR profession around the world.
Test the HR professional's competency, the ability to put that knowledge to work through critical thinking and application.
Show that the HR professional is a technical specialist and has studied the application of HR technical and behavioral competencies, through practice and experience, to push business results.
Who Should Attend the SHRM-CP Certification Exam?
HR professionals were planning to take the

SHRM-CP certification exam

.
HR practitioners were seeking professional development to improve their careers or update their HR knowledge.
HR professionals who need to enhance their marketability.
For the SHRM-CP, HR professionals who execute policies and strategies, help as a point of communication for staff and stakeholders, deliver HR services, and make operational HR functions.
Preparation Tips for SHRM-CP Exam
1. Determine Your SHRM-CP Exam Eligibility
SHRM doesn't let just anyone take its exam. Depending on your education and the particular certification applied for, you will need to have spent at least several years in an HR-related role.
A candidate with a bachelor's degree will require at least two years of experience before qualifying to take the SHRM-CP exam. If you don't have a college degree, you will need four years' experience.
2. SHRM-CP Exam Practice Tests
The practice is a necessary part of preparing for a test and increasing a test taker's chance of success. The best way to practice taking a test is by going through lots of practice tests. There is a huge advantage and can make a massive difference to someone taking the SHRM-CP practice test, which is already familiar with the questions and answer choices.
SHRM-CP Exam Practice Tests are the easiest way to prepare for the SHRM-CP test if you have a lack of time.
Detailed answer explanations are also provided for each question. These in-depth answer explanations will allow you to understand better any SHRM-CP questions that were hard for you or that you required more help to know.
3. Apply for the SHRM-CP Certification Exam
Once you have decided that you meet the minimum requirements, check to see whether you are in the center of an application period. SHRM gives its exam in winter and spring, each period with its application deadlines.
4. Schedule Your SHRM-CP Certification Exam
After submitting your application and payment, SHRM will evaluate your HR background to confirm that you have the required experience. You will receive an "Authorization to Test" certificate, enabling you to log into SHRM's scheduling portal and set a time. Prometric, a test administration service, handle this part of the process.
Be sure to pick unless free day for your test, as SHRM certification exams take four hours to complete. If you require to reschedule, be sure to do so at least 30 business days in advance to avoid acquiring a fee.
Moving Into HR Leadership
According to the SHRM, more than 5000 employers that are members of the society are actively seeming for certified professionals to hire. The field of HR has improved in the last decade. More and more professionals in the area play a role in developing a strategy as exposed to just doing what was once regarded as regulatory functions.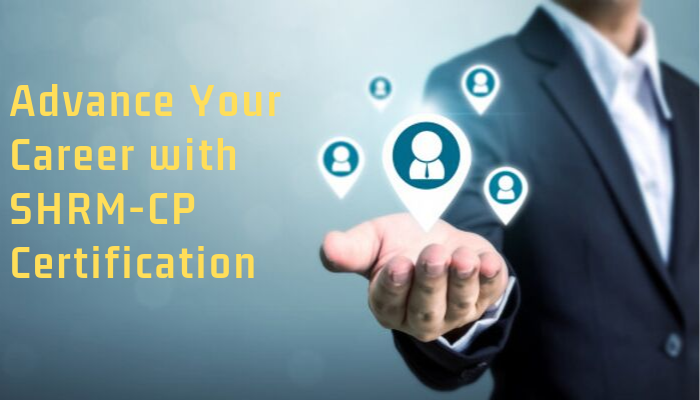 Because there is a shift in the role of the HR professional, employers are looking for the most skilled and driven professionals to hire. One way to find talent and drive is to find possible leaders and current leaders who have already become certified through SHRM.
Benefits of Obtaining SHRM-CP Certification
Acquire extensive professional development.
Gain a generalist point of view.
Strengthen your knowledge of core competencies.
Develop general skills and practices that can be applied to any organization.
Prepare for the globally recognized

SHRM certification exams

.
Conclusion:
Preparing for SHRM-CP certification in HR is essential. Just like any test, how a student performs on this test could change their entire future. Using SHRM-CP practice questions and study resources is a must before applying to sit for the exam.
Once students test their knowledge on competencies and strategic topics areas, they can know if they are confident to check for their SHRM certification and launch their career in human resources.