Professional in Human Resources (PHR) certification, is provided to the human resources professionals. The professionals who have PHR certification are recognized as experts in HR practices and HR operational skills.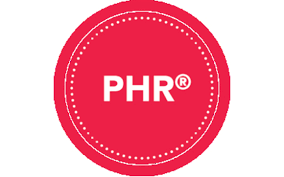 PHR certification is for the HR professionals who are informed of the implementation of programs and the professionals who are logically and technically guided. Such professionals can carry the responsibilities of the HR department in any organization.
PHR certification will get the following benefits:
The professionals can boost up self-confidence and could become a renowned HR expert.
The professionals can get the knowledge needed to conduct HR operations.
They can boost their vision in the HR field and bring creative and productive ideas to their workplace. Every organization requires such HR experts who can deliver effective strategy for their HR department.
Such professionals can look after the organization and handle the risk by their skills which they have gained via a certification program.
They always stand out of the crowd in the business world.
PHR certification assures your durability in the HR profession.
HRCI PHR Certification Exam Summary:
Full Name: Professional in Human Resources
Exam Code: PHR
Application Fee USD $100
Exam Fee: USD $395
Duration: 180 Minutes
Number of Questions: 175
Passing Score: 500/700
Format: Multiple Choice Questions
HRCI HR Professional Syllabus Topics:
Business Management (20%)
Talent Planning and Acquisition (16%)
Learning and Development (10%)
Total Rewards (15%)
Employee and Labor Relations (39%)
How PHR Certification Can Impact Your HR Career?
Tips to Prepare for the PHR Certification Exam
Get Mentally Ready for the PHR Exam
Secure that you are in the right frame of mind on exam day will aid you to succeed on the PHR exam. In practical, eliminate all outside distractions for a full day before the exam. Power off your mobile and don't look at the email from the afternoon before exam day until the time you leave the testing center.
The PHR exam is especially tiring because of the length. Make sure you are well fed and hydrated before you begin. Even though you are permitted bathroom or water breaks, make an effort to minimize these, since any crack may compromise your focus. If you feel tired, frustrated, or cannot think and think a break will clear your head, take one.
Take the Day off from Work
You will be tired, no matter how well you do. Take yourself to your favorite restaurant, or head home and put your feet up.
Visit the testing center before exam day. The last thing you require on exam day is the stress of a wrong turn or incorrect directions. Going to usual somewhere instills a calming influence.
Arrive early, but being late could cause you to be rolled away. You can sit in your car and scan a few questions before going in. In some cases, the testing center will make you enter, even if you are a bit early.
Design a Study Plan
After you sign up for the PHR exam design a weekly study plan to keep yourself on track.
Pick a Study Method for PHR Certification
There are various prep classes as well as study groups available to help you. If you are more relaxed studying alone, there are also materials available you can purchase, including study guides, textbooks, and flashcards.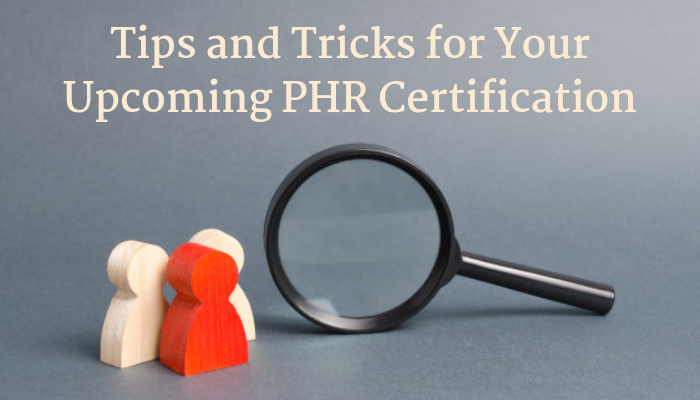 Take Practice Tests for the PHR Exam
Practice tests are valuable because they reveal you to the test format and how the actual PHR exam questions will be asked.
HRCI offers a practice exam so you can give it a try and understand where your weak areas are. You can also find practice exams in many of the study guides.
Make in Your Comfort Zone
Do what you need to do to make yourself comfortable. Get lots of rest the night before, eat a good breakfast, and make sure to choose an afternoon time to take the exam if you aren't a morning person.
Such quick tips help us a lot in the

PHR examination

because these are the key to scoring high.
Keep in mind that so much of the material is information you already identify as a

Human Resources practitioner

.
Don't overthink any of the questions. If you don't know an answer, mark the question and come back to it.
Good luck!