The demand for HR certifications has been discussed for many years. While it is not expected to have certifications to obtain a position in HR, many positives come from having those letters after your name. If you have decided to become certified, it is now time to do your research.
New professionals beginning a career in the world of Human Resources will find the new Associate Professional in Human Resources (aPHR) certification ideal for their credentials.
The aPHR describes the industry's first-ever HR certification designed for practitioners who are just starting their HR professional journey.
Geared towards entry-level human resource practitioners, the aPHR certification preparation will involve students in the six functional areas of human resources. The course is entirely online encompassing seven weeks of in-depth study in the world of human resources.
Why HRCI Certification?
The Human Resource Certification Institute (HRCI) has a 40 year legacy of producing the gold standard for HR mastery and excellence throughout the globe as well as being the sole provider of HR certifications approved by the National Commission for Certifying Agencies' (NCCA) precise standards.
HRCI has over 500,000 certified HR professionals worldwide who have shown they know to operate the human resources field with competence and skill.
HRCI has created the first-ever entry-level Certification for individuals wishing to jump-start their career in the human resource profession.
Associate Professional in Human Resources (aPHR) Certification
HRCI has newly introduced the first-ever HR certification designed for professionals who are just starting their HR career, the aPHR or Associate Professional in Human Resources.
Eligibility is conditional on a high school diploma or equivalent, and there is no HR experience required since the exam is knowledge-based. Receiving this Certification can help new HR professionals begin their career in the right direction and solidify their HR skillset.
aPHR Exam Format
Full Name: Associate Professional in Human Resources
Exam Code: aPHR
Duration for aPHR Exam: 2 hours and 15 minutes
Questions: 100 scored questions (mostly multiple-choice) + 25 pretest questions
aPHR Exam Passing Scores: 500 / 700
Computer-based exam at a Pearson VUE testing center.
aPHR Exam Syllabus Topics
HR Operations (38%)
Employee Relations (16%)
Recruitment and Selection (15%)
Compensation and Benefits (14%)
Human Resource Development and Retention (12%)
Health, Safety, and Security (5%)
Since this exam does not need any prior HR knowledge or a degree, preparation involves reviewing the exam material HRCI provides on their website. This material outlines the six sections of knowledge individuals should acquaint themselves with and tasks a new HR professional may be required to perform.
Who Should Enroll for aPHR Certification?
Young professionals were starting a new HR management career.
Recent college graduates.
Armed services men and women who need to make the change to a civilian profession.
Other professionals were seeking a career transition into the HR field.
Who Can Benefit from aPHR Certification?
aPHR Certification is suitable for individuals whose jobs or career goals involve human resource management. The aPHR Certification is fitting for: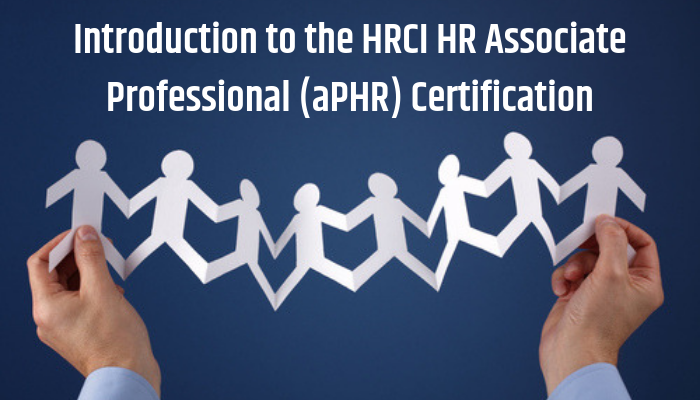 Professionals whose roles include HR duties, such as managers, business owners, supervisors, or administrators.
Working professionals trying to transition into an HR role.
Early-career HR professionals.
Recent college graduates endeavoring to enter the HR field.
Recent college graduates attempting professional roles that involve HR duties.
Military service members are preparing to transition to civilian careers.
Experienced HR professionals are seeking aPHR Certification as a precursor to a more advanced credential.
Anyone wishing to gain a credential characteristic of essential U.S. employment law and HR best practice knowledge.
HR Associate Professional Salary
The average salary for an aPHR is $49,277. An entry-level Associate Professional in Human Resources (aPHR)  with less than one year of experience can require to earn an average total compensation covers tips, bonus, and overtime pay of $44,265 based on 115 salaries.
An initial career Human Resources (aPHR) Associate with 1-4 years of experience earns an average total compensation of $48,786 based on 1,237 salaries.
A mid-career Human Resources (HR) Associate with 5-9 years of experience makes an average full payment of $54,354 based on 304 salaries.
An experienced Human Resources (HR) Associate with 10-19 years of experience earns an average total compensation of $50,684 based on 139 salaries.
In their late-career 20 years and higher, employees make an average pay of $50,626.